Fruit carving is a fascinating art form that involves turning ordinary fruits into beautiful sculptures. Also known as fruit art or fruit sculpture, this ancient practice has been enjoyed for many years. While many fruits can be used for this art form, watermelons are a popular choice due to their bright green rind and juicy, delicious flesh. Skilled artists can create a wide range of stunning designs using watermelons as their canvas. In this essay, we'll take a closer look at fruit carving, specifically focusing on the incredible forms that can be created using watermelons.
The story commences with the allure of a simple watermelon, a quintessential summer treat. However, in the hands of skilled artisans and creative minds, these juicy fruits transcend their ordinary role and evolve into mesmerizing works of art. The artistry unfolds in the form of intricate carvings that turn the watermelon's flesh into a visually stunning display.
As the tale progresses, we witness the transformation of watermelons into a diverse array of shapes and forms, each carving a testament to the ingenuity of those who wield the knife. From delicate floral patterns to elaborate scenes, the watermelon wonders become a celebration of both taste and aesthetics. The juicy masterpieces not only tantalize the taste buds but also delight the eyes with their enchanting designs.
The keyword resonating throughout this delectable narrative is "enchanting artistry." It encapsulates the essence of the story, emphasizing the magical quality of the carved watermelon creations. The artists, with their skillful hands, breathe life into the fruit, turning it into a canvas that captivates and inspires.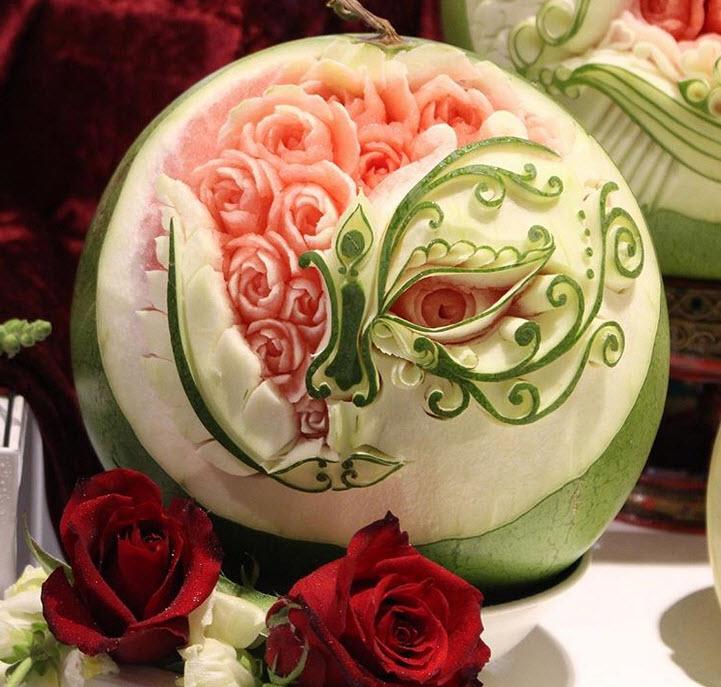 In conclusion, "Watermelon Wonders" transport us into a world where culinary artistry meets the juiciness of summer's favorite fruit. The enchanting carvings become a feast for both the eyes and the palate, turning a simple watermelon into a work of edible art. This narrative celebrates the creativity that transforms everyday experiences into extraordinary delights, reminding us that beauty and wonder can be found even in the most unexpected places, like a carved watermelon on a hot summer day.